Data is the Future, and the Future is Now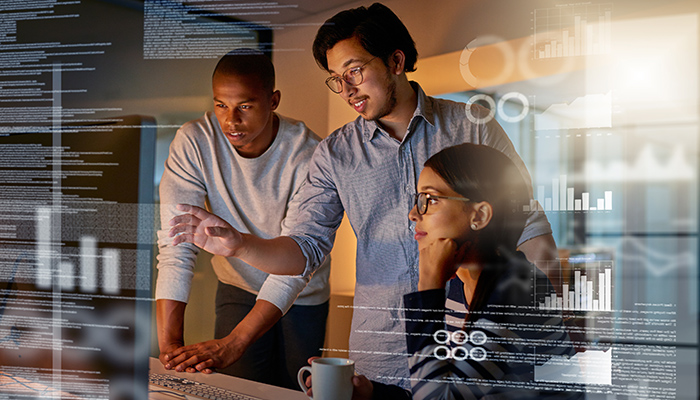 Last week I sat for a panel discussion at Folio Show 2018 on how companies can better leverage big data, both from a marketing standpoint but also in how we build out products, strategies, and solutions for our customers. Today, data informs every business decision we make, and making sense of it all has become both a challenge and an opportunity. With so much data at our fingertips, it's more important than ever to capture and provide that data for clients in a way that provides actionable insights and strategies.
It was a lively discussion, and the audience was clearly engaged on the topic as they asked myself, Forbes' Jay Webster and Investing Channel's Nikesh Desai with questions on a range of hot-button issues companies face today as they wrap their heads around how their data can be put to use most effectively in their organizations.
Technology has ushered in something of a Renaissance for data collection. What used to be a largely analog process of collecting data based on the success of print advertisements or postcard mailings has gone digital, throwing open the doors to gathering data on a much more widespread basis and down to a more granular level. In sending out an email, I can tell you what the open rate was, what the clickthrough rate was, how many recipients we connected with, how many turned into leads and finally, how many turned into a closed business. We can do the same thing with press releases, newsletters, webinars and even the website itself.
Simply put: data is pervasive. We have more sources and data points to collect than we could possibly ever use, so a big part of providing valuable, usable data to clients is cutting through the noise and zeroing in on which segments of that data are most relevant to their specific needs.  Our goal is to ensure we are delivering the solutions that are addressing the issues that are top of mind to our customers and placing them at their fingertips to inform their strategy and actions.
Data enables us to iterate more rapidly and with greater precision, from both a product and messaging standpoint. We shift focus based on what we learn from analyzing the data as well as what customers tell us themselves. Take Legal Compass as an example. That's a product for which we had some precursors, namely solutions where customers downloaded our data in Excel spreadsheets or who received our scraped data. We spoke to a number of users of those products and asked them what they really want and need. Based on that feedback, we've done a release of Legal Compass every month for more than a year, refining it along the way, ending up with a considerably better product than we started out with factoring in that user input.
Drilling down even further, we look at usage statistics to determine which elements of the product are being utilized most often, how they're being utilized, and the type of people using them. This gives us the insight needed to fine-tune the product even further to ensure the emphasis is being placed on the aspects of the product our customers actually use the most and find most useful.
When it comes to measuring success, one of the best indicators we have is delighted customers who, based on past successes, know that they can come to us to solve their problems. Our business is steadily growing by working closely with customers. The two major aspects of that are getting new customers to start using our product, but also getting existing customers to use the product more every day. We want evangelists, customers who are excited about the solutions we deliver for them every day and are eager to talk about what we're delivering for them.
Data is informing throughout all these processes. We think about our strategies, our product development, the marketing, sales, and support. Every one of those has reinforcing feedback loops with data that we've never been able to leverage before. Now we have the ability to collect it, process it, and visualize it from a marketing perspective but also from a product perspective to continuously improve service to our customers.
Andrew Neblett
Andrew leads the ALM Intelligence and Advisory business, providing market and competitive intelligence to business leaders to allow them to act with confidence to grow and run their businesses. Prior to ALM, he held several senior executive roles at Thomson Reuters building its Risk business. Most recently, he led the Enterprise Risk Management businesses delivering governance, risk and compliance intelligence, software, services and training. He joined Thomson Reuters when it acquired EDGARfilings, where he was co-founder and CEO