Will Your Property & Casualty Insurance Job Be Replaced By Technology?
The answer coming out of three recent events in New York is maybe
There were two large events in NY the last week of June that insurance professionals should take note of.
The first was the O'Reilly Artificial Intelligence Conference and the second was the CBInsights Future of FinTech conference.
Both directly, and indirectly addressed the current and future impacts of technology on the Insurance industry from a variety of perspectives.
A related presentation, Discrimination in Machine Decision Making by Krishna Gummadi of the Max Planck Institute given at AT&T NY dealt with issues of fairness and discrimination in AI and Machine Learning applications. Although there are several issues covered that I am unable to get into in depth here, the main points raised were provocative.
As the cost of data storage and processing continues to fall – and is available without large upfront capital investments, companies are able to collect and analyze information about customer behaviors in increasingly sophisticated ways.
The interconnectedness of data sets is allowing insurers to anticipate user behaviors and assess risks in new ways. The interconnectedness of things is also providing vast amounts of data on everything from exercise habits to impending mechanical failures in engines.
The pervasiveness of customers' use of mobile devices and their expectations for always-on service is accelerating a trend towards self-service insurance.
Most of this is pretty well understood. Less understood, and relatively new is the emergence of companies providing Training Data as a Service TDaAS, AI and Machine Learning as a service, and the open sourcing of some pretty sophisticated AI and Machine Learning tools. This is driving down the initially large cost barrier to entry in AI and Machine Learning adoption.
Taken together, these trends will accelerate and broaden the adoption of sophisticated new software applications in the Insurance industry in ways that are only starting to be fully appreciated.
What does this mean for insurance professionals – or those thinking about a career in insurance? It depends. There are three areas in which we can look at: Underwriting, Claims, and Distribution.
Underwriting
The pervasiveness of large actuarial data sets, increasingly combined and enriched with other data is allowing insurers to insure more risks, and to make decisions more quickly.
If you're a data scientist or software engineer, you should give the insurance industry a look. Insurance provides a social good, where you'll be able to apply your skills to interesting data problems.
If you're in an underwriting job that has any repetitive tasks that can be automated by machines, at worst you're at risk of being replaced – more optimistically, your job will be augmented by machines freeing you up to focus on the areas of your job where you add the most value.
How do ensure the latter versus the former?
Take an inventory of your job and your skills. If you're performing functions that can be replaced now – or will be in the future – chances are they will be.
Do some research on the areas in Insurance least likely to be replaced by technology – and start managing your career into one of those jobs.
Claims
The claims process is already being impacted by new technologies.
Insurers and Third-Party Administrators are deploying technology to improve customer experience in the claims process. Increasing customer convenience, speed of responding to claims, and automated fraud detection.
In the field, drones are helping to assess property damage, image databases, digital forensics tools; and  AI-powered Chatbots are making the process of filing a claim easier.
Machine learning and predictive analytics are already being used to automate repetitive human processes.
Many back office functions are ripe for replacement, but out in the field, technology is likely to augment rather than replace humans in the short term.
Distribution
Already being impacted by online comparison sites and apps, distribution is going to continue to be hit hard. Like other markets where technology is a disruptor, automation will replace humans in writing transactional policies, and serve customers that are too expensive to provide personal service.
Technology is likely to augment human agents and brokers serving small and mid-sized businesses. New tools will allow agents and brokers to more efficiently serve small and mid-sized business clients that are currently expensive to acquire and service. It's an underserved market and technology is likely to facilitate growth.
In all three of the areas outlined above, you'll need a high Emotional IQ to continue adding value to your employer. While an increasing number of customers want always on/self-service solutions, others want a human connection – particularly people and organizations managing complex risks. If you're someone who adds value in business-to-business relationships, that's a personal competitive advantage that you will need to have with today's expansive market.
There's never been a more exciting time to be working in P&C insurance, but you need to be sure that you're positioning yourself into jobs that will be augmented, not replaced by technology.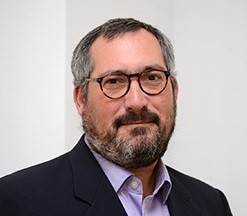 Peter Westerman
Peter is responsible for developing new products and product extensions for the customers ALM serves, as well as analyzing reader behavior and usage patterns. He is currently driving several initiatives related to impact of technology on the markets served by ALM including cybersecurity, Internet of Things, Digital Automation, and Big Data & Analytics. Peter has more than 25 years of experience managing all aspects of digital transformation of business-to-business information products, including live events, web sites, research, and publications.