Case Study: Transforming ALM's Digital Culture
Introduction

ALM is a media, intelligence and events company with over 30 trusted brands spanning multiple industries, serving as a leader in critical news, data, analysis, marketing solutions, and events in the professional services field. ALM has loyal, engaged users and cross-brand interest, despite a digital infrastructure that historically had not kept pace with consumer expectations. Synergy between brands was limited and the user experience for those who wished to engage with multiple brands was awkward and unintuitive. Advertisers did not have an easy way to engage in a contextually relevant manner across all of ALM's legal brands. Duplication of effort and redundancy were common because of the lack of connectivity between brand platforms. After incorporating organizational, and cultural changes into the product development team, ALM is now positioned to be a leader in innovation for the B2B media space.
In order to streamline operations and remain competitive by enhancing the overall user experience, ALM needed to fundamentally transform its digital culture by taking advantage of inherent opportunities for brand synergy and reducing technical debt. One early result of this endeavor was the development of a common CMS offering, greater cross-brand connectivity, improvements for ALM's global newsroom, and opportunities for product bundles that appeal to readers and advertisers. ALM's media brands are now truly "digital first" in the creation, publication and user engagement of their content.
A New Approach to Product Development
A major shift in the role of product development at ALM is the lynchpin of the transformation of its digital culture. In the past, the Product Development team responded to various teams' needs on a project-to-project basis as they came down the funnel, and made fixes on an ad hoc basis. This haphazard and maintenance-focused approach increased technical debt and hindered innovation. The new organization treats development as a continuum, a constant push and pull of information between the product development teams and sales, marketing, finance, and editorial in which innovation both informs and is informed by, the needs of ALM and its customers. In this improved model, product development sits at the very center of ALM's ecosystem, with constant and intentioned development. Rather than responding to tickets, Product Development listens to market needs and responds with recommendations that solve customer problems. A strengthened Business Intelligence team provides data that supports all of the product requirements and creates KPI's to measure the success of new features and products.
In ALM's previous brand-by-brand approach, implementing a new feature across multiple platforms required a duplication of effort for development and design teams which led to fragmented user experiences and an inefficient use of resources. The remedy to both of these deficiencies was an overhaul of the core infrastructure of the content offering, beginning with ALM's legal brands. The first clear step was to decouple the brands from their individual platforms and URLs. A unified CMS was implemented. Benefits include exciting new strategic advantages to the legal market on both the reader and advertiser fronts, reduced technical debt, improved time to market and cost reduction, and inefficiencies. Going forward a total of 3,500 engineering hours per year will be redeployed toward innovation and away from servicing technical debt.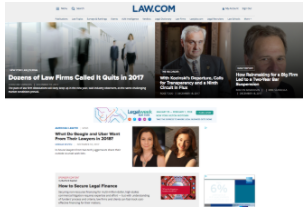 Law.com
Law.com is the new home for ALM's legal media brands. It's one house with many front doors—users enter through the publication subdomain they're most comfortable with and enter a world of relevant related content. ALM established its Global Newsroom as a way for journalists to collaborate more easily and readers to enjoy a richer and more comprehensive content experience. Now ALM is taking the next step in this evolution—the new CMS platform and Law.com allow the promise of the Global Newsroom to become a reality on a technological level. By connecting stories with a common UX, there is more harmony between brand editors with easier access to content that matters for users, and a sharper focus on message alignment with contextually relevant topics for sponsors.
Richer User Experience
ALM's new platform offers general but marked improvement in the overall user experience. Besides performance improvements like faster load times, pages on the new platform feature various avenues for users to engage with stories more deeply. This includes links to stories that are trending across ALM's network of publications and opportunities to seamlessly dive into topics of interest and related stories from any article page.
This new platform is a place for customers to interact with ALM brands in a familiar setting while being organically introduced to current and future innovations that enhance and broaden their overall experience. At its core is a unified CMS housing 18 of ALM's 20 legal brands (with the remaining two to be added in the near future), allowing for up-to-the-minute delivery of content to all users.  
From the familiar setting of a brand's article page, users can explore the topics, issues, and analyses that matter to them most. Articles feature links to additional related stories, as well as any mentioned in the article itself. Links to related topic pages and a list of Recommended Stories at the bottom of the page drive further engagement by deepening the reading experience of users. Links to Trending Stories that are creating the biggest buzz across ALM's network of brands are also present on article pages, as well as direct links to other stories written by the same author. This enhanced navigation experience is a natural extension of users' browsing habits and serves to enrich both the breadth and depth of their experience with ALM's brands.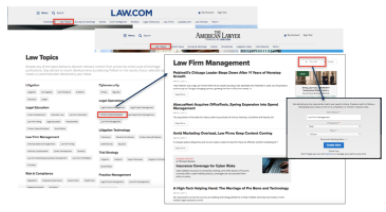 The new platform's alert system allows for a more personalized and adaptable user experience. Users can receive daily and weekly newsletters based on their most-read publications and set email alerts when new content is published on the topics, areas of law, industries, or law firms they choose from across ALM's legal brands. Alerts are user-controllable and customizable—they can be pushed daily or weekly, at an hour chosen by the user. Hyper-focused alerts can also be set up using a string of terms (for example, a law firm plus a topic). For added convenience, users can manage alerts directly from the My Account section of Law.com. The bottom line is more engagement with a variety of stories and publications, without compromising on brand familiarity.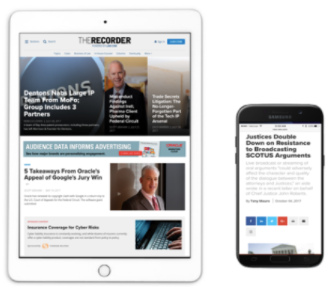 The new platform was designed to support the reading habits of the modern lawyer—it respects the fact that legal professionals are time-pressed and need to move quickly, but also gives them expedient ways to delve deeper into topics of interest. Topic groupings allow users to explore relevant content in a few clicks. Instant Insights is a special collection module that delivers a compilation of content on some of the most pressing topics and issues impacting the legal market today, granting Law.com readers the ability to delve into expert analysis to uncover the full story. The continuous scroll feature of both the desktop and mobile sites allows users to quickly absorb a large number of headlines, and hone in on articles of interest.
The mobile experience featured on ALM's unified platform is the biggest leap in UX that the company has ever undertaken—it marks a dedicated and forward-looking attitude on both the user and sponsor sides. Besides the continuous scroll feature, the Law.com mobile site features smoother and more intuitive navigation and high-impact presentation of top stories.   
More Impactful Sponsorship Options
Another aspect of ALM's revamped and unified platform is a great number of richer advertising options. Advertisers are always looking for more targeted and nuanced ways to reach audiences, and the new platform delivers in this regard on several fronts. Sponsors have always been able to advertise to ALM's customers by publication, but are now also able to target audiences by topic. Advertisers can sponsor a topic across the entire network of brands powered by Law.com (for example, "Litigation Technology"), comprising a page takeover, native spots for articles, and top and side banner and footer ads. There is also an option to upgrade to high-impact ad units such as the scroll reveal (on articles) and superhero (on articles and topics pages).
ALM's brands now also offer a special mobile-only ad option called a "mobile adhesion unit" that follows users' as they browse a story until they opt to close it. Mobile adhesion units can live on the home page, article pages, and topic pages.
Not only are the new platform's ad units more seamlessly integrated into the overall user experience and more visually impactful, the topic sponsorship model offers a new level of precise targeting that outmatches traditional brand-only ads. With the new platform, advertisers are able to reach their key audience in-context and in greater volume.
A New Way to Look at Brands
A change in the way ALM viewed the evolution of its legal brands also paved the way for the new approach to the product. The company previously operated under the belief that each brand required its own URL and CMS. This foundational technical approach forced ALM into a position of choosing between immediately migrating all brands to Law.com and maintaining the status quo for its vast array of established brands, with each brand technically isolated. This battle hampered the ability for the company to truly leverage scale. By recognizing that the brands could be decoupled from their associated URL's, ALM realized it could create a common core platform that would build on the established brand equity in The American Lawyer, The New York Law Journal, and others while delivering the benefits of scale and cross-brand synergy. A natural evolution will be a substantial increase in the value of ALM's powerful domain – Law.com.
The New Approach in Action
Development Strategy Case Study 1: Briefings
A prime example of ALM's new approach coming to fruition in a tangible way is the new Briefings products. Briefings are either a weekly or bi-weekly read-through newsletters, written by ALM's expert journalists. They bring a unique voice to topics and analyze and contextualize them on a deeper level than in regular publications. Briefings were developed in response to a number of needs and opportunities identified by key ALM teams. The Sales team cited a need for a content feature that would both add value and drive subscriptions to Law.com. Editorial wanted to create a new storytelling methodology for high-
level topics and better feature their journalists, whose expertise comprises a core component of ALM's Unique Selling Proposition. In the past, these two needs would be treated as separate mandates, not an opportunity to innovate. Instead, ALM decision-makers took the time to consider input from all sides—product development, engineering, Sales, and Editorial. The result was an innovative product that not only answered the call from all teams but also bridged significant gaps in ALM's previous industry-specific offerings. Briefings were delivered within record time. Testing the products in family-and-friends sample groups quickly yielded promising feedback, supporting go-to-market viability. This approach is emblematic of a more nimble product development process with solutions that are innovative rather than band-aid fixes.
Development Strategy Case Study 2: Tax Facts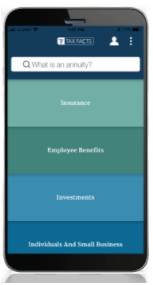 Tax Facts began as a print publication over half a century ago, eventually growing into a four-volume product comprising of more than 3000 Q&As. While it enjoyed strong brand awareness and loyalty, its size had become cumbersome and its presentation outdated. In the past, the solution would have been to simply "digitize" the existing product, without improving or innovating. Instead, a close look was taken at what the product should accomplish and how users engaged with the content in their daily workflow. This led to a dialog between editorial, sales, and marketing, who understand how consumers use the product, and engineers, who know how to creatively solve issues and capitalize on the avenue for improvement and streamlined operations. The outcome was a low-cost development product that took only four months from conception to release. Tax Facts is also ALM's first native paid app. Its development involved solving several challenging pricing and bundling issues. By building an API that powers both the web and the mobile Tax Facts experience, ALM was able to provide customers with a more flexible solution for their subscriptions dollars.

Development Strategy Case Study 3: Global Leaders in Law
ALM's recent acquisition and implementation of Global Leaders in Law (GLL), the leading global General Counsel forum, is another example of the new product development infrastructure coming to fruition. With the new unified platform, ALM was able to add the GLL offering to the Law.com platform in the space of a few weeks, rather than the several months it would have taken before the unified CMS. The GLL subpage of Law.com is already attracting GCs, who are now able to easily explore related materials from publications across ALM's network, such as Corporate Counsel and Inside Counsel.
 
Development Strategy Case Study 4: SocialBoost
Another ALM product that has seen rapid market success under the new product development strategy is SocialBoost, a social media offering that allows advertisers to sponsor top performing posts, targeting ALM social media audiences and beyond. SocialBoost drives brand awareness and amplifies branded content across ALM's extended social media audiences.
"I was excited to see the new [SocialBoost] opportunity from ALM – social media presents great exposure. Once adding SocialBoost to my current native campaign, my client received a high increase in engagement on their website," said Lisa Thai, Senior Media Planner/Buyer at Thomson Reuters.
The Future
ALM is now in a position to innovate rather than maintain, both at the content creation and technology levels, setting the stage for a more agile and adaptable future for the company as a whole. The long-term effects of ALM's new product development process are promising. Minor releases are happening more regularly—for example, the implementation of ranking pages and the extension of the "Best Of" product to digital. Technical debt is being eliminated and speed to market for new products is drastically faster. Leadership has also decided to remove ALM's in-house built authentication and subscription platform and move to MPP global, freeing up internal development teams to focus on the market differentiators that truly set ALM apart. ALM will continue to roll out features that reflect a commitment to evolving with the markets it serves—from a more personalized experience for readers to richer advertising options.
The new platform represents more than a consolidation of ALM's brands into one experience—it is their unification. An overarching CMS is key to this unification, but so are the familiar brand subdomains, and the unprecedented level of UX customization. By early 2018, ALM's international publications China Law & Practice and Legal Week will be added to Law.com, along with the 10 plus professional services brands from ALM's five other industries. All of these properties will run on one CMS, facilitating more rapid development on the production side, and giving users richer access while avoiding the disenfranchisement of a brand overhaul.
For more questions or to speak to someone at ALM about this information, please email [email protected] directly.